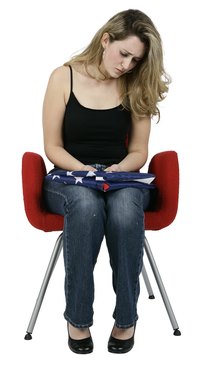 Government grants are available to help widowed mothers care for their children. Funding helps pay for necessities such as shelter, food and childcare as well as college tuition or other expenses. To qualify for these programs, you need to submit verification of income, family size or other specific criteria to determine eligibility.
Social Security Survivors Insurance
The Social Security Administration (SSA) provides benefits to surviving spouses of deceased workers. To qualify for the survivor benefit, your deceased spouse must have worked and paid Social Security taxes. Widows who care for a child receiving Social Security benefits who is under age 16 or disabled are eligible for the survivor benefit. Unmarried children under the age of 18 or children of any age who were disabled before the age of 22 are also eligible for benefits. The benefit amount depends on the worker's average lifetime earnings. Also, a one-time death payment of $255 can be paid to the surviving spouse if the deceased worked long enough.
Survivors' VA Benefit
The U.S. Department of Veterans Affairs provides survivors' benefits to surviving spouses and children of fallen war heroes. The Dependency and Indemnity Compensation is a tax-free benefit for eligible survivors of a military service member who died while on active duty or from a service-related injury or disease. The surviving spouse must have been married to the military service member during the time of death or have a child with the veteran. The basic monthly rate is $1,154 for the surviving spouse. The rate is increased for each dependent child. The VA adds a transitional benefit of $286 to the monthly benefit if there are children under the age of 18.
Childcare
Widowed mothers may be eligible for childcare through the Head Start and Early Head Start Programs. The Administration for Children and Families provides free childcare services for low-income working families through the local Head Start Child Care Center. Early Head Start is for children up to three years old. Head Start requires children to be between the ages of three and five. The program provides educational instruction and nutritious meals for children from working families. You must meet the income limit for your household size to qualify for free childcare services.
Housing
The U.S. Department of Housing and Urban Development (HUD) provides rental assistance to low-income families. Low-income widowed mothers are eligible for subsidized rent through HUD's Public Housing or Section 8 Housing Choice Voucher Programs. The mother's total household income cannot exceed the very-low income limit level for the area she lives in. Renters who live in subsidized housing pay 30 percent of their income toward rent. HUD pays the remainder. You can apply for a subsidized rental at your local housing authority.