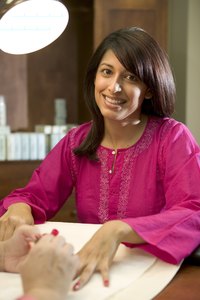 Just because you've built it, it doesn't mean they will come. There were over a million hair and nail salons competing for business in the U.S. in 2010, according to IBIS World. If you want to maximize your share of the market and tempt customers away from your rivals, offer choice and value and let them know you're there.
Product and Service Range
Expand the number of services, treatments and products you sell. If you've just been selling pedicures and manicures, branch out into providing different nail overlays and extensions. Consider widening your services to include basic cosmetic procedures, massages, facials and hair styling. If you decide to provide services such as botox injections, contact your state licensing authority to find out if you need any additional licenses. Consider selling nail-care products that your customers can take home.
Male Customers
Create a service specifically aimed at men. According to the International Spa Association, some 30 percent of spa goers are men, so if you're not actively offering your services to male consumers, you're losing out on a big chunk of the market. Advertise in media with a large male audience -- get audience demographic information from media owners -- and introduce a range of offers to build a male clientele.
Marketing
Place advertisements in local media and on business listing sites and classified services. Produce fliers and posters to distribute locally. Launch any advertising campaign with a special offer; perhaps offer 10 percent off a certain treatment or offer three treatments for the price of two. Create a website and sign up for social media sites to promote your salon.
Loyalty and Coupons
Introduce a loyalty card plan for your regular customers. Offer one free treatment for every five purchased or a percentage off of each visit. Also consider contacting group-buying and coupon websites to discuss promotions that could bring new and repeat customers to your salon.