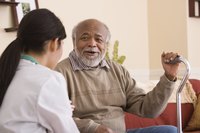 Certified nursing aides, or CNAs, provide the most basic type of health care for patients while working alongside and under the direction of registered nurses and doctors. CNAs typically perform basic tasks like changing bed sheets and bathing patients. The Bureau of Labor Statistics reports that over 1.4 million nursing aides were employed throughout the United States in 2010. Annual salaries for CNAs vary by location and the health-care setting.
Pay Scale
Certified nursing aides earned an average annual salary of $25,140 per year, as of May 2010, according to the BLS. The bureau indicates that CNAs typically earned salaries ranging from $17,790 to $34,580, with the upper 10 percent earning more than this latter figure and the bottom 10 percent making less than $17,790. Those making up the middle half of the pay scale made salaries that ranged from $20,600 to $29,070 annually, with a reported median salary of $24,010.
Employers
The type of health-care setting affects how much a CNA can expect to make. The highest-paid nursing aides worked for the federal government, earning an average annual salary of $35,730 per year in 2010. The largest number of nursing aides, however, worked in nursing care facilities, making an average salary of $24,250. Those working in hospitals earned $26,770, while those employed in community care facilities for the elderly made $23,430.
Location
Location also plays a role in determining how much the CNA is paid. For example, the highest-paid nursing aides worked in the states of Alaska, Nevada, New York, Hawaii and Connecticut, making an average annual salary in excess of $30,500 per year, according to the BLS. The bureau indicates that nursing aides in California earned an average of $27,920, while those working in Texas only made $22,010 per year, by comparison.
Job Outlook
The job forecast for those in the nursing aide field appears favorable, based on BLS projections for 2008 to 2018. The bureau projects that the number of jobs for CNAs and psychiatric aides will grow by about 18 percent during that time frame, largely in response to the growing population and the increased number of elderly people.