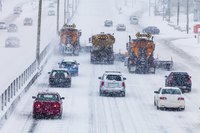 When the weather is bad and your area is experiencing blizzard conditions, the last thing you probably want to do is travel on dangerous roads and go to work. However, if your employer requires you to report to work, you could find yourself in a predicament. The severity of the weather and the type of vehicle you are driving are considerations when choosing to go to work in blizzard conditions.
Features
An employer can make it mandatory for certain personnel to come in to work regardless of the weather. Your employer could have an inclement weather plan that requires all essential personnel to make it to work. Ask your employer about your company's inclement weather policies. If you drive a company vehicle, you should question whether it should be driven in severe weather because it makes the business liable.
Significance
If you are requested at work and do not come in because of the weather conditions, your employer is not required to pay you. You could be required to use a sick day or a vacation day to receive payment for not coming in to work. If the employer closes the office because of the blizzard, it is not responsible for paying nonexempt hourly employees, but it may be required to pay salaried exempt employees.
Considerations
Commercial motor vehicle operators cannot legally be dismissed or disciplined if they refuse to drive in blizzard conditions. Under Section 405 of the Surface Transportation Assistance Act of 1982, an employee cannot be penalized for refusing to drive when the weather makes the employee apprehensive for his safety or the safety of the public. Operation should be discontinued until the road conditions are deemed safe for travel.
State of Emergency
If your state has declared a state of emergency because of blizzard conditions, you might legally be barred from driving to work. For instance, during a state of emergency in Delaware, you are not permitted to drive unless you are an employee who must go to work to ensure the health and safety of the citizens of the state. Examples of essential personnel include individuals who provide health care services, food deliveries and fuel deliveries. Firefighters, police officers and government officials also typically are allowed to travel during a state of emergency.