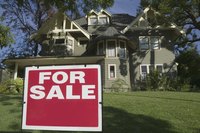 When a borrower defaults on the monthly payment for a house, the house may eventually sell at auction. The bank or other lender sells the house for the amount owed by the borrower plus fees and expenses. The rules and laws relating to the foreclosure auction differ by state and county. In general, there are several possible scenarios after a foreclosure auction.
Prior to the Auction
When a borrower fails to make the house payments, the lender tries to collect the debt. The house owner receives a notice of default and is encouraged to bring the mortgage current. If this doesn't happen, the county where the house is located schedules a foreclosure auction. Information about the auction is published in local newspapers and posted on the house. Information about the foreclosure process for the house is recorded with the county clerk's office.
At the Auction
In many counties the foreclosure auction is held on the steps of the county court house. Interested bidders attend the live auction. The successful bidder usually pays for house immediately by cash or cashier's check. In most counties, the house is sold "as is" and the sale in final.
Successful Bidder
The successful bidder often takes possession of the house immediately. The new owner may be responsible for any liens or tax liabilities attached to the house. If the former owner still resides in the house, the new owner evicts the residents. If tenants rent the house, the type of rental agreement often determines the length of time they remain in the house. Tenants with a month-to-month rental agreement are usually given a 90-day notice to move. Tenants with a lease may often stay until the end of the lease period. The new owner receives the rent payments until the tenants leave.
No Successful Bidder
If no one makes the minimum bid, the house ownership usually reverts to the bank or other lender. It is now called a real-estate-owned house. If tenants live in the REO house, the bank follows the state and county rules for eviction of the tenants. The bank often contracts with a real estate agent to sell the property. The house may be cleaned, repaired, and prepared for sale. The bank or lender may discount the house price for a quick sale. Prospective buyers tour and inspect the house with the assistance of the real estate agent. The bank determines the purchase price and negotiates or approves the offers made by interested buyers.