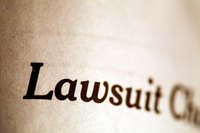 Most lawsuits cannot continue when the person being sued files for bankruptcy protection. If you are seeking financial restitution, you can find out if you should be classified as a creditor in the bankruptcy. Understanding your rights as a potential creditor in the bankruptcy is imperative. Depending on the basis of your claim, you may be entitled to receive payment during the bankruptcy or the debt could be ultimately discharged by the bankruptcy court.
Automatic Stay and Lawsuits
Lawsuits pending when a person has filed for bankruptcy must stop, according to section 362 of the Bankruptcy Code. An automatic stay is in effect against all creditors and legal proceedings as soon as a bankruptcy case is filed. The types of litigation that can continue during a bankruptcy include criminal court cases, paternity suits, and child support cases. Speak with your attorney regarding the bankruptcy case to find out if the automatic stay applies to you and your lawsuit. If you are legally obligated to stop the lawsuit as a result of the bankruptcy filing, you may not continue the lawsuit until after the bankruptcy case is closed.
Filing a Claim in the Bankruptcy
The person you sued or planned on suing is required to list you as a creditor if he owed a debt to you that existed before the date the bankruptcy case was filed. Retrieve copies of the paperwork filed with the bankruptcy court to confirm if you were listed as a creditor or if the lawsuit was listed in the bankruptcy case. If you should be listed as a creditor in the bankruptcy, you can file a proof of claim with the bankruptcy court stating the amount of the debt, the basis of the claim, and provide documentation verifying the validity of the debt. You may want to consider hiring a bankruptcy attorney to ensure your rights are protected during the case.
Object to Discharge of the Debt
Certain types of debts, such as child support payments, debt accrued as a result of fraud, and fines issued due to a criminal conviction, are ineligible for discharge by the bankruptcy court. If the debt owed to you is included among the exceptions to discharge, file an adversary proceeding with the bankruptcy court. Explain why the debt should not be discharged according to the provisions of the Bankruptcy Code. The bankruptcy judge will determine if the debt is dischargeable or if the person who filed for bankruptcy will remain responsible for paying off the debt.
Discharged Debt
If the debt is discharged by the bankruptcy court, you must cease any further attempts to collect payment for the debt. If the debt was not discharged in the bankruptcy, you are still entitled to receive payment from the person. Speak with a bankruptcy attorney or the attorney handling the original lawsuit to find out all of the legal options available to you during and after the bankruptcy case.