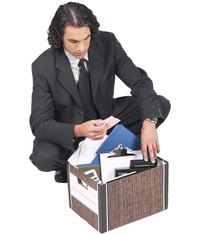 The majority of unemployment counter claims are made because the employer believes that the employee's job performance involved misconduct of some kind. Not all misconduct claims will be denied benefits. However, cases in which employees are charged with gross misconduct may be denied claims. Unemployment benefits are controlled at the state level and the rules for denying benefits may vary by state.
Unemployment Eligibility
Candidates for unemployment must first qualify in order to receive benefits. Qualification depends on the status of the employee upon leaving including whether the employee worked full or part-time. The circumstances for the termination also determine the eligibility for benefits. In some states, part time employees may be eligible for benefits as well as full time employees. Applicants should visit their local state unemployment insurance office to file a claim. Upon filing, the applicant will be asked a number of questions regarding the nature of the termination.
Unemployment and Misconduct
Eligibility for unemployment may hinge on whether or not the applicant's employer has stated that employment termination is based on misconduct. Gross misconduct is defined by the Washington, D.C, Unemployment Insurance office as assaulting or threatening someone without provocation, stealing or attempting to steal from your employer, dishonesty, repeated disregard of reasonable orders from your employer after being informed of workplace rules, intoxication or possession of illegal drugs, destruction of property or repeated absences or tardiness. In cases in which gross misconduct is deemed to have occurred, denial of unemployment can and most likely will occur.
Appealing an Unemployment Claim
Applicants who have been denied unemployment insurance benefits have the right to an appeal hearing. Most states have an approximate 30-day deadline for filing an appeal. Applicants may have to represent themselves in the hearing with an unemployment referee. They should familiarize themselves with the issues which have been presented against them in the claim. Many hearings are telephone conferences. The applicant is asked to make an opening statement and is allowed to present witnesses, if necessary. The applicant may also cross examine witnesses presented by the employer.
Considerations
Besides misconduct, unemployment benefits can be denied for other reasons. Depending on the situation, benefits can be denied for what is called a"voluntary quit." In these situations, the employee chooses to leave his job. Some states provide benefits for a "voluntary quit" if it can be proven that the employee left because of harassment or financial difficulties. Employees who are charged with minor misconduct, depending on the state, may or may not be eligible for benefits.