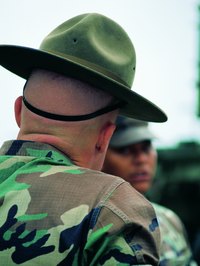 Sergeants major are soldiers in the U.S. Marine Corps and in the U.S. Army. They are enlisted soldiers at the top of the rank ladder in both branches of the military. Their pay varies according to their years of service. They also receive allowances and other types of special pay that can supplement their monthly income.
Types of Pay
All sergeants major receive basic pay, which comprises the main part of their salaries. Other types of pay, also called incentive or special pay, are given to sergeants major and other ranks of soldiers for special events or qualifications. Hardship or dangerous duties qualify for special pay. Allowances are also part of soldiers' income. Housing and food are two types of allowances. The housing allowance for a sergeant major as of Jan. 1, 2011 was $852 without a dependent and $1,123.20 per month with a dependent. When soldiers are not paid for specific needs, they receive monetary allowances. Allowances are typically not taxable.
Enlisted Soldier
Sergeants major are the second-to-the-highest rank of enlisted soldier, E-9. They are just below the ranks of Sergeant Major of the Army and Sergeant Major of the Marine Corps. Sergeants Major of the Army or of the Marine Corps earn higher salaries than sergeants major. They earned $7,489.80 per month as a basic salary. This amount stays the same regardless of years of service.
Salary
For a sergeant major in either the Army or the Marines, the basic monthly pay as of Jan. 1, 2011 was $4,634.70 per month with 10 years of cumulative service. With over 20 years of service, the salary increased to $5,436.60 per month. The salary for a sergeant major with over 26 years of service was $6,215.70, and for those with over 30 years of service, it was $6,526.20 per month. With over 36 years of service, the salary increased to $6,852.90 per month, and with over 40 years of service, the salary increased to $7,195.80 per month.
Benefits
In addition to basic pay, special pay and allowances, military personnel are eligible for a number of benefits. Retirement, healthcare, vacation time, survivor benefits for their children and spouses, educational and home loan benefits are some of the types of benefits available to sergeants major and other ranks of soldiers.