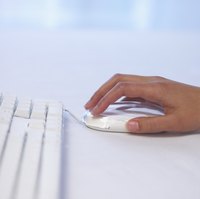 When a claimant is denied unemployment, he can file an appeal to dispute the unemployment agency's decision to not pay benefits. An appeal is a request for a hearing to review the original claim and determine if the denial was warranted. The appeals process varies by state.
Reasons for Denial
If the state unemployment agency determines the reason a claimant is separated from employment is not valid, the claim may be denied. Any claim based on job separation other than a layoff is investigated before benefits are approved. Unacceptable reasons for separation include if the claimant was fired from the position for misconduct or violating company policies. A claimant who quit a job and was able to perform the position in a safe manner may also be denied unemployment benefits.
Filing an Appeal
In most cases, claimants have up to a specified period of time to file an appeal. For instance, Louisiana claimants have within 15 days of the mailing date of the denial letter to file an appeal. The appeal is filed at the agency listed on the denial letter. In some instances, the appeal is made to an administrative judge, tribunal or the unemployment agency. The appeal must be filed using the official appeals form provided with the denial letter. Once an appeal is filed, a hearing is set for a future date.
Documentation Needed
If a claimant has any documentation to support his request for unemployment benefits, it must be provided prior to the hearing. Copies of the documents are presented to all parties involved in the decision, including the unemployment agency and the claimant's former employer. Supporting documentation can include pay stubs, doctor's statement or a written statement by a witness. The claimant also has the right to request that a witness is subpoenaed to provide testimony regarding the claim.
Outcome
Following the hearing, the judge or agency responsible for determining if the denial of benefits is warranted will take into consideration the evidence presented at the hearing. A written decision is mailed to all parties concerned within a specified period of time. In some states, the decision can take up to eight weeks. During the appeals process, a claimant must continue to file a claim form for benefits to ensure payment for those weeks if the denial is reversed.