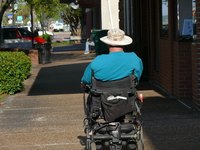 Under the Americans with Disabilities Act (ADA), you can't discriminate against employees or job applicants who are disabled. If disability makes it impossible for them to do the work, that's a legitimate reason for turning an applicant down, provided the work she can't do is an "essential job function" -- one that's absolutely necessary for the job in question.
ADA
The ADA applies to state and federal governments, and to all private employers with more than 15 workers, the Equal Employment Opportunity Commission (EEOC) states. The act bans discrimination against "qualified individuals with a disability" in all aspects of employment: Hiring, firing, promotion, layoffs, recruiting and job application procedures. A qualified individual, under the act, is one who meets the legitimate requirements for the job, and is fully capable of performing essential job functions. If there are non-essential job duties the individual can't perform, that isn't grounds for discriminating against him.
Definition
There are several definitions of an essential job function, the Job Accommodation Network states. Some jobs exist specifically to perform particular functions: Chauffeurs, for example, have to be able to drive. In other cases, particular jobs require extra expertise, such as a salesperson who deals with Latin American customers being able to speak fluent Spanish. The number of employees may play a role: If you have an office staff of two people, you could decide that its essential both of them be able to handle incoming phone calls, for instance.
Standards
You're allowed some discretion in defining essential job functions, the Job Awareness Network states. If you require a typing speed of 80 words a minute, for instance, you don't have to prove this is more essential than 50 words a minute. If someone accuses you of discrimination, however, you might have to prove that you actually take the standard seriously, and that your other employees in that position all meet it.
Accommodation
The ADA doesn't require you to favor a disabled employee or job-seeker over someone who's better qualified for the essential job functions, the EEOC states. If a disabled person is otherwise qualified but can't handle non-essential job functions, you do have to make "reasonable accommodations" that would make it possible to employ her. This can include modifying work schedules, hiring readers or modifying equipment; it doesn't include buying her a hearing aid or glasses. The exact standard of reasonable accommodation will vary on a case by case basis.