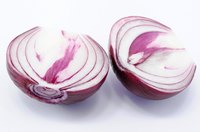 Marketing has a strong focus on the result and customer instead of on the employees who help make the goal a reality. When there is an absence of organizational behavior management strategies, relationships between the company and customers may become strained. By placing focus on the different layers within a company, personal, organizational and social objective are achieved and create room for growth.
The Onion Theory Overview
In the Onion Theory of marketing, the heart of the company is the onion's core and the company's shareholders and customers makeup the outermost layers. The layers in the middle make up the principles and processes that get a product from the heart of the company and out to the consumers.
The Core
The core of the onion in the Onion Theory examines who a company's prospects are and why they care, and has a plan of action that is realistic. The core includes the creation of a goal that considers the company's functional competencies, cultural capabilities and the capacities of the organization. The core also includes the internal customer -- the employees. A company must strive to focus on the employees as an asset by having a performance-driven culture that gives employees a reason to embrace the organization and feel a sense of ownership. When assessing the products and services offered, a company additionally should examine the benefits of the product or service they sell. For example, the purchase of an insurance policy also purchases peace of mind, or memories are also purchased when a consumer buys a camera.
The Actual Product or Service
The middle layers in the Onion Theory states this is where the actual product or service is highlighted. This is where a company executes a flawless plan of action that stays flawless by maintaining a focus on the operations of the company, increasing productivity, maintaining effective company branding and efficiently meeting and exceeding the needs and standards of customers consistently.
The Augmented Products or Services
The augmented products or services makeup the outermost layer of the onion and represent the non-tangible benefits a company offers. It is more than name and brand recognition, as a company must implement their knowledge about their target customer so they can stand out from the competition. Augmented services or products include customer service before and after the purchase of a product, warranties or guarantees. This is an area, or layer of the onion, where a business can outperform its competitors.