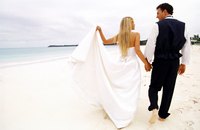 When you work for a company with a pension, you are building a retirement benefit. A pension is designed to pay you monthly retirement payments as long as you are alive. What happens to your pension benefit when you pass away depends on your retirement status at death and your marital status.
Pension Benefit
A pension is completely controlled by your employer. Your employer manages the plan's investments and is responsible for paying your promised benefit during retirement. Your pension retirement benefit is based on the plan's benefit formula. Your exact benefit formula depends on your company but will be based on some combination of your average salary and length of service at the company. The longer you work at a company and the higher your average salary, the higher your monthly payments during retirement.
Die Before Retirement
Your pension begins making payments once you reach the plan's stated retirement age. If you die before reaching retirement, you plan benefit is not lost. Your heirs will inherit the present value of your plan benefit. This is the value of the investments needed to build your expected retirement benefit. Your heirs will have the option of receiving the benefit as a lump-sum payment, rolling over the benefit into another retirement account, or receiving payments through an installment payment plan.
No Spouse
Once you reach retirement, you become eligible for monthly payments from your pension plan. These payments continue as long as you are alive. If you are retired and unmarried, the pension benefits are based solely on your life expectancy. As soon as you die, the payments stop and the benefit is over. This is a tradeoff for pension benefits. Some workers outlive their life expectancies and receive a greater benefit. Others die young and receive a smaller benefit.
Surviving Spouse
If you are receiving pension payments and are married, the payments may not stop when you die. You have the option of basing your pension payments on the lives of both you and your spouse. Under this option, pension payments continue as long as one of you are alive. Note that monthly payments under a joint-life plan are lower than payments based only on your life because of the added benefit to your spouse. If you die under a joint-life pension payment, your pension benefit continues as long as your spouse lives.