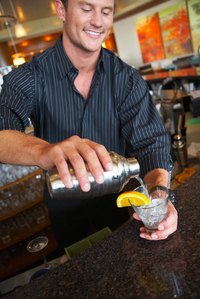 Owning a bar or music lounge is the dream of many people looking for a fun, exciting and profitable business. While a well-run bar or music lounge can offer many owner benefits, a successful venture will require lots of planning, hard work and a substantial amount of money to accomplish. Many people only see the fun side of ownership, without realizing the work involved in getting a successful business off the ground. Time spent on homework and planning up front can eliminate or reduce the possibility of issues or failures in the future.
Location
As with most retail businesses, location can dictate the success or failure of a new business. A bar or music lounge should be located in an area convenient to major roads or highways, have good visibility for the structure or signage, offer adequate parking, support infrastructure such as plumbing, electrical needs and environmental systems, and pass local permit criteria.
Equipment and Furnishings
In addition to traditional bar equipment and furnishings such as coolers, ice makers, tables, chairs and glasses, a music lounge will also require sound and lighting equipment. Size and features of these systems will be determined by the type of band you intend to book. For example, a few lights and a small sound system will typically work for local or small acts. If you intend to book large, national acts, modern lighting systems and high-end audio systems may be necessary. Consult an audio expert, in addition to a restaurant supplier, in order to assess your options.
Permits
For a traditional bar or lounge, a variety of local and state permits will be required. In addition to a business license, a liquor or alcohol license will be required to sell beer, wine or liquor. If food will be served, a health department permit or inspection will also be required. To have live music in your lounge, local ordinances may require special permits or licenses. Permits from music performance organizations such as SESAC, BMI or ASCAP will also be required.

Inventory
Stocking a new bar will require an inventory of beer, wine, liquor and assorted relative items to get started. Distributors or salespeople can help determine the type and size of inventory you'll need to get started. Many distributors also offer financing plans for new businesses.

Working Capital
To ensure the success of any new bar or music lounge, working capital to cover the start-up period should be available. This money will help to pay bills, compensate employees, and cover other costs until the business becomes profitable and can support itself. The amount of working capital needed can vary widely, but can be determined during the planning process.