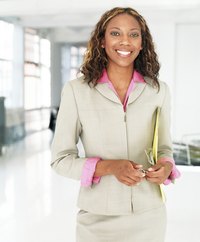 Banks have more functions that most people imagine. Departments range from retail banking, the teller you see when you walk into the bank, wealth management, mergers and acquisitions, to marketing. Each of a bank's departments has a variety of job levels, including assistant vice president. These middle managers are part of the management team of a bank, which, according to the U.S. Bureau of Labor Statistics, comprises approximately 25 percent of bank employees.
Retail Banks
Bank assistant vice presidents work both behind the teller line and on the platform, the desks in the main lobby of the retail bank. In the retail bank, she is responsible for resolving customer complaints, signing cashier's checks, managing the teller staff, ordering the cash for the bank branch and opening new customer accounts. She is also responsible for identifying customers' potential financial needs and offer bank products to meet those needs, or referring customers to other appropriate bank departments.
Human Resource Departments
An assistant vice president at a bank may work in the human resources department. In HR, she is responsible for creating job postings when positions arise within other departments of the bank. She is responsible for answering bank employee questions about benefits such as health or life insurance, retirement planning or harassment in the workplace. In this department, she is also involved in reviewing annual employee performance evaluations and in completing paperwork for promotions.
Wealth Management
In the bank's wealth management department, she must have an in-depth knowledge of investments, trusts, wills and estate planning. She is responsible for working with high net-worth customers on a daily basis. A wealth management assistant vice president approves and signs wire transfers and trust checks on behalf of her customers. Duties include meeting with customers to discuss their current financial needs, plan for their long-term investment goals and to distribute their trust and estate assets when they pass away.
Foreign Exchange Departments
She may also work in the foreign exchange department. Her duties in this department include supervising operational personnel, resolving customer inquiries or complaints and making suggestions to upper management regarding improvements that can be made in foreign exchange processes. In some banks, the assistant vice president is also responsible for managing the department's budget and performing financial analysis to assess risk.