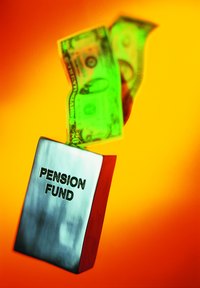 If you earn money from a company pension plan, your benefits may be taxable. It depends on various factors, including your filing status, your income level and the source of the funds for the pension. Taxes on pensions do not affect Social Security payroll contributions, which fund the Social Security retirement and disability benefit programs.
Taxes on Pensions
For a pension, the IRS considers who made the original contributions. If your employer made all contributions to the plan, or did not withhold contributions from wages, then the benefits are taxable. Taking an early distribution from the plan before you reach the age of 59 1/2 may also subject you to a 10 percent early-distribution penalty levied by the IRS. You can avoid the penalty by taking the payout as a part of equal and periodic payments after your retirement. The IRS also waives the penalty if you are disabled, or if the payments are made to your survivors after your death. If you or your employer paid into the pension from wages that were originally subject to income tax that you had to pay, then your payouts during your retirement are not taxable.
Payroll Taxes
The Social Security Administration funds its benefits through a system of payroll taxes, which your employer deducts from your wages. Employers as well as employees pay into the Social Security system, as do self-employed individuals who pay both the employer and employee share. Contributions to company pensions, whether they are made by you or your employer, have no effect on payroll taxes.
Other Employment
If you are paying taxes on your pension payments, you are still subject to Social Security taxes as long as you continue working. If you have retired from the company, you may continue to work at another job; pension obligations on the part of your employer do not end by reason of other employment. You will continue paying payroll tax on your wages at the obligatory rate, and you may be subject to income tax on the Social Security benefits as well.
Taxes on Social Security Benefits
Your Social Security benefits are taxed according to your income level and filing status. You calculate the tax by adding together any wages, tax-free interest and Social Security benefits you received; the IRS then sets tax on your Social Security benefits based on this total. If you are single and the amount is less than $25,000, there is no tax on your benefits. If the total falls between $25,000 and $34,000, then 50 percent of your benefits are taxed. If the total is above $34,000, then 85 percent of your benefits are taxed. If you are married filing a joint return, the minimum income levels for Social Security benefit taxation rise. Below $32,000, there is no tax on any of your benefits. Between $32,000 and $44,000, half of your benefits are taxed; above $44,000, 85 percent of your benefits are taxable. If you are married but filing a separate return, then you pay tax on 85 percent of your benefits, no matter your income level.