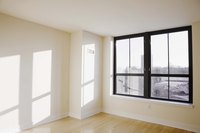 No absolutes exist when it comes to the value of a condo versus a detached home. The value of your home depends on its location. For example, a condo in New York City is likely to fare better than a detached home in a depressed area of the country. Still, condominiums on the whole tend to be more sensitive to housing slumps and to suffer more than detached homes in a weak housing market. There may be a number of reasons for this, each of them consumer driven.
Privacy
One of the special challenges of reselling a condo is the issue of privacy. While buyers may overlook the fact that they can hear their neighbors during a vibrant housing market, it can become an issue when the market cools. For home buyers who prioritize privacy, a detached home is worth more.
Home Owners Associations
The value of real estate is dependent upon demand. If a buyer finds something he doesn't like about a particular type of real estate, the value of that property is worth less to him. For example, there are buyers who are resistant to purchasing a home converted by a home owners association, or HOA. Because nearly all condos are part of an HOA and bound to the restrictions set out by the HOA, there are a segment of buyers who will only consider detached homes not covered by HOAs.
Expansion
Because of limited space, it is rarely possible to expand upon a condo. For a buyer who is looking to stay in a property and who can foresee making the home larger, a detached home with enough land to accommodate expansion is worth more.
The American Dream
It's tough for buyers in non-urban areas to get away from the mental image of what the American dream looks like. There's something about a single family, detached home with a backyard that evokes an emotional reaction in buyers who hold onto that image. No matter how perfect a condo is, a buyer who can see only a detached house as home is unlikely to be swayed.