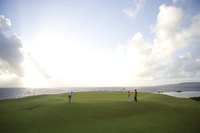 Golf course architecture is a specialty of landscape architecture. Golf course architects typically work for golf course design firms; very few are in private practice. Golf course design contracts can go into the millions of dollars and the value and prestige of a course rests upon its design. Some of the most elite design firms are owned by superstars in professional golf, such as Jack Nicklaus, Gary Player, Arnold Palmer and Nick Faldo, all of whom made Golf Inc. Magazine's 2010 list of "The Most Powerful People in Golf."
Education and Licensure
A career in golf course architectural design requires a minimum of a bachelor's degree in a landscape architecture program accredited by the Landscape Architecture Accreditation Board of the American Society of Landscape Architects. National certification in landscape architecture must be obtained from the Council of Landscape Architectural Registration Boards, but reciprocal state licensure may also be required. State licensure requirements vary from state to state. As of 2009, licensure based on the Landscape Architect Registration Examination (LARE) was required in 49 states, and 13 states required successful completion of an additional state exam. In order to qualify for taking the licensing exams, national standards require graduation from an accredited program and three years of internship under a registered landscape architect.

Early Career
After becoming fully licensed, a landscape architect specializing in golf course design will usually be required to work as an assistant to a professional golf course architect. According to the Bureau of Labor Statistics (BLS), the 2012 median annual income for landscape architects was just under $64,180. Upon completion of an apprenticeship working as a golf course architect's assistant, you can expect your salary to increase by about 10 percent, depending upon location and reputation of the firm.
Statistics By State
According to SalaryBox.com, the state with the highest 2010 average annual salary for a golf course architect was California at $83,640, with the bottom 10 percent at $46,230 and the top 10 percent at $112,740. In Maryland, the average income was $73,980, with the bottom 10 percent at $45,970 and the top 10 percent at $110,860, while in Virginia, the annual average was $58,180 with the bottom 10 percent at $27,300 and the top 10 percent at $96,590. North Dakota had the lowest average at $45,030, with the bottom 10 percent at $39,010 and the top 10 percent at $55,120.
Statistics By City
According to the Economic Research Institute (ERI), salaries for golf course architects in major metropolitan areas vary by less than $15,000. In 2011, the city with the highest average salary in the United States is New York at approximately $75,000. Other cities, such as Houston, Chicago, Dallas and San Diego have averages in the high $60,000 range, while Orlando, Phoenix, Indianapolis and Miami averaged in the mid-to-low $60,000 range.