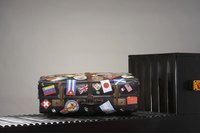 Choosing luggage for travel can be challenging, especially for frequent business travelers who need luggage that can withstand constant wear and tear. But a durable bag may not be the first consideration for travelers who just want a lightweight carry-on that keeps them from having to wait for checked luggage after a long flight. Two common types of luggage are hard-side and soft bags, one made from polycarbonate and the other from material such as leather, polyester and nylon.
Nylon
Nylon material is typically found in soft luggage, which is lightweight and durable. It is weather-resistant and also highly resistant to scuffs, rips, tears, abrasions and scrapes. Nylon also has high elasticity and comes in several weave styles, such as ballistic and ripstop. Ballistic nylon is made from a basket weave pattern that is puncture- and tear-resistant due to how the fibers are twisted together. Though more expensive than nylon luggage, the durability of ballistic nylon luggage makes it ideal for the business traveler who uses luggage often. Ripstop nylon luggage material is made in a box-shaped pattern, and though less tear-resistant than ripstop nylon, its design prevents small holes from becoming large rips.
Polycarbonate
Polycarbonate material is a special kind of plastic used in hard-sided luggage. It is made from the same material used in CDs, glasses and bulletproof glass. Though it is a hard material, polycarbonate flexes when struck to absorb impact, then restores itself to its normal shape. Polycarbonate is very difficult to break or shatter, and its properties make luggage built from this material heavier than nylon.
Considerations
Choosing between nylon and polycarbonate luggage is dependent on the frequency of travel. Polycarbonate luggage is ideal for business travelers whose luggage takes a pounding on a regular basis. Because of its ability to act as a shock absorber, polycarbonate luggage is also an effective choice for travelers who are carrying breakable or fragile items. However, hard-sided luggage made from polycarbonate is bulkier and heavier than soft luggage made from nylon, and will often be too large to use as carry-on luggage. Nylon-made bags are lightweight, compact and easy to carry on a plane. In larger sizes, nylon luggage weighs less than luggage made from polycarbonate, which can help keep luggage under an airline's weight limit.
Types
Travelers can choose from among a number of different soft- and hard-sized luggage. Nylon luggage is available in a duffel bag style, which typically has shoulder straps. Garment bags are also a common style for nylon-made luggage, and are often used to carry suits and dresses that travelers don't want to become wrinkled. Hard-sided luggage with polycarbonate construction is sold in a rolling, upright style, which is wheeled luggage that travelers can pull by a handle. Laptop cases are also made from polycarbonate because it provides maximum protection against drops, bumps and knocks.