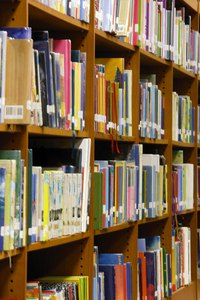 Though librarians are in charge of libraries and their departments, library assistants help with basic tasks such as organizing information, preparing new acquisitions and helping users locate resources. They can work with physical books, which requires standing, reaching and lifting, or with computers, which can mean long hours behind a desk. Part-timers work less than 40 hours a week and do not get the benefits of full-timers, such as paid holidays and health insurance.
Work
Library assistants require, at most, a high school diploma, though knowledge of computers is necessary. Those who are familiar with library cataloging systems and online public access can enhance their job prospects. Workers in school libraries work regular school hours, though in public libraries they may also have evening and weekend schedules to accommodate patrons. A few end up in bookmobiles, which they may operate by themselves or with other library staff. Part-time library assistants make an average $12.07 per hour, with the lowest 10 percent getting $7.95 per hour and the highest 10 percent earning $17.98 per hour. These salaries are national and from the Bureau of Labor Statistics from May 2010.
Jobs
Over 55 percent of library assistants work in local government, which includes public libraries. They make slightly lower means here at $11.62 per hour. Elementary and secondary schools offer 17 percent of the positions with higher wages of $12.51 per hour. In addition, schools can hire their own students as part-timers, perhaps offering them their first taste of the working world. Part-time library assistants looking for the best pay should apply to legal services, where mean wages reach $16.75 per hour. State government offers the next highest salaries at $16.03 per hour.
States
The states with the most jobs for library assistants also have the highest populations. California has over nine percent of the positions, with average pay at $14.33, which is higher than the national average. New York ranks second for opportunities with over 8 percent of the jobs and with mean wages at $12.86 per hour. The state with the highest pay for these workers is Alaska, where a high cost of living pushes salaries to a mean $17.33 hourly. Behind it is Nevada, with wages at $14.66 per hour.
Cities
Among cities, Chicago, Illinois, offer the best employment opportunities, with 4 percent of all library assistant positions. Mean wages here run $12.85 per hour. The highest population city, New York, comes in second with slightly over 3 percent of the jobs and with mean pay at $12.44 per hour. The metro area with the best pay is Anchorage, Alaska, at $18.75 per hour. The Santa Cruz-Watsonville, California, metropolitan statistical area is next, with hourly rates of $17.75.