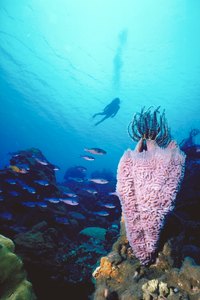 Marine biology is the study of marine organisms, what they do and how they interact with their environment. Only a few schools offer bachelor of science degrees in marine biology. Most undergraduates get a biology degree with some marine biology coursework included. Having only a bachelor's degree typically limits career and salary potential in the field. To conduct research or teach in universities requires a Ph.D. However, overall job opportunities are few because marine biology is a small field. (Reference 3, 4th paragraph under "Employment Change")
Beginning salary
Southeastern Louisiana University reports that, according to the National Association of Colleges and Employers, beginning salary offers averaged $33,254 annually for bachelor's degree recipients in biological and life sciences in 2009.
Federal Workers
The federal government tends to pay those holding a bachelor's degree in marine biology somewhat more than do research organizations, according to Chronicle Guidance Publications, Inc. According to Truman State University, the average annual salary for federal workers with a bachelor's in biology is $45,000. Workers with master's degrees receive approximately $51,100 and those with Ph.Ds. receive approximately $60,000. An array of government agencies employ marine biologists, the university notes, including the Department of the Interior, the U.S. Fish and Wildlife Service, the Heritage Conservation and Recreation Service, the Bureau of Reclamation, the National Oceanographic and Atmospheric Administration, the Department of Agriculture, the Forest Service and the State Department.
Overall Median and High Salaries
The U.S. Department of Labor Statistics categorizes marine biologists under zoologists and wildlife biologists. In 2010, zoologists and wildlife biologists overall made an annual median salary of $57,430, according to the bureau. The industries offering the highest annual mean salary were the federal government at $77,030; scientific, research and development services, at $72,410; architectural, engineering and related services, at $68,060; local governments, at $58,710; and management, scientific and technical consulting services at $55,130.
Job Opportunities
According to the U.S. Bureau of Labor Statistics, job opportunities for people with bachelor's degrees in biological sciences are the most numerous in non-scientist areas related to biology, such as jobs in sales, marketing, publishing and research management. Bachelor's degrees holders are also employed as lab technicians.
For students, Truman University stresses the importance of finding opportunities for field research, laboratory work and summer internships in marine biology to increase their prospects for graduate school and job opportunities.