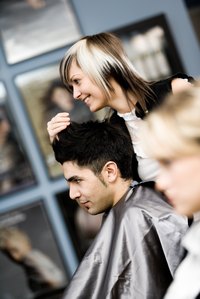 Many people will only visit a hairstylist they trust as a hairstylist cares for what some people consider their most valuable asset. The stylist provides whatever hair care services the client requests. This may include a cut, trim, color, perm, highlight or extensions. A hairstylist's salary depends on a variety of factors, including his level of experience and his location.
Pay Structure
A hairstylist's pay structure varies by the salon in which she works. Some salons charge each hairstylist a "booth fee" that the stylist must pay weekly or monthly. The stylist is often permitted to set her own pricing for services when she rents a booth from the salon. Other salons pay hairstylists hourly wages and allow for additional compensation in the form of tips from clients. Another pay structure a salon may utilize is similar to commission; the salon sets pricing for services, and the hairstylist receives a set percentage for the services she performs.
Starting Out
When a hairstylist starts out, he does not have a regular client base or a reputation within the industry. He obtains most of his business from walk-ins. As of 2011, hairstylists who are just starting out can expect to earn between $7 and $10 per hour, according to the Hairdressing Schools website. This starting hourly wage equates to an annual salary of between $14,560 and $20,800 for a full-time, year-round hairstylist. If the client likes the stylist and his work, the client may come back and request him. This is how a hairstylist obtains regular clients.
Average Salary
The Bureau of Labor Statistics places a hairstylist under a category with hairdressers and Cosmetologists for the purposes of its wage surveys; as of 2010, a hairstylist's average hourly wage was $12.74, and her average annual salary was $26,510. Those on the lower end of the wage scale, or 10th percentile, earned $7.86 per hour (or $16,350 annually) and those on the higher end of the wage scale, or 90th percentile, earned $19.97 per hour (or $41,540 annually), as reported by the BLS. These wage estimates encompass all hairdressers, hairstylists and cosmetologists, at all levels of experience.
Salary by Location
A hairstylist's salary also varies by location. In the District of Columbia, the top paying area for this occupation, hairstylists averaged $18.11 per hour (or $37,680 per year). Hawaii, Washington, Vermont and South Carolina also experienced high wages, where they averaged between $14.90 and $16.60 per hour (or between $31,000 and $34,500 annually). In contrast, in states such as Pennsylvania and Wisconsin, wages were lower, where they averaged $11.84 per hour (or $24,620 annually), according to the BLS.