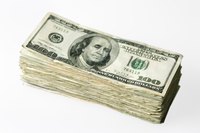 Financial solvency is the ability to pay your bills from the income you receive, as well as the ability to come up with money in an emergency. Yet a May 2011 study by the Bureau of Economic Research found that nearly half of all Americans said they would definitely or probably have trouble coming up with $2,000 in 30 days. This startling statisic reveals just how financially fragile households are today, and how important it is for all Americans to become financially savvy.
Living Below Your Means
Living below your means is perhaps the most important thing you can do to be financially solvent. In his book "The Millionaire Next Door" Dr. Thomas Stanley reveals that one of things millionaires have in common is their frugality. The frugal nature of these high-net-worth individuals has more to do with their financial status than many other factors, including education and income. If you spend every penny you make, you will never be financially solvent, no matter how much money you make. If you learn to live below your means, accumulating wealth and becoming financially independent becomes a lot easier.
Budgeting Skills
Learning how to budget money effectively is an essential skill if you want to remain financially solvent. Until you know exactly how much money is coming in and how much is going out, you can never be truly financially free. Get in the habit of tracking every purchase for a few days, no matter how small. This can be an eye-opening exercise, and it can help you spend your money more wisely.
Income
While living below your means is essential no matter how much or how little you make, having a solid income behind you certainly helps. In "The Millionaire Next Door" Dr. Thomas J. Stanley states that the average income for households with a net worth of at least a million dollars is just over $130,000. While that is certainly an impressive figure, it is something that many two-income households are able to achieve. Getting more education and learning as much as you can about your chosen field can prepare you for higher-paying jobs and put you on the road to financial solvency.
Savings and Investments
Having savings and investments to fall back on is always important, but the importance of that nest egg rises as you get closer and closer to retirement. Younger workers can remain financially solvent by working hard and putting some money aside for emergencies. But older workers need to be especially savvy about building a nest egg that can generate the income they will need in retirement. Actions like checking your future Social Security and pension benefits and saving as much as you can on your own can prepare you for the future and keep you financially solvent even after your paycheck goes away.