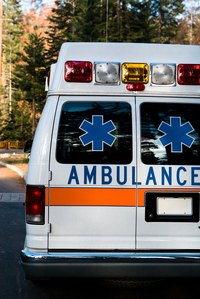 A first responder's salary depends directly on his training, credentialing and job title. Many first responders, for example, are firefighters or police officers who have received the requisite training to provide limited medical attention. In such cases, the responder's salary would be his police or firefighter salary, often with additional pay for completing first responder training. Many rural communities that lack fire or police departments may have volunteer first responders, or employ first responders on a full or part-time basis.
Who are First Responders?
The National Highway Transportation Safety Administration -- the NHTSA -- defines a first responder as "the first individual who arrives at the scene, regardless of the individual's type of credential." This includes police officers, firefighters, paramedics, emergency medical technicians -- or EMTs -- or any other properly trained people. First responders aren't intended to replace more highly trained EMT and paramedics, just as EMTs don't act as substitutes for physicians.
Training
The "First Responder: National Standard Curriculum" was developed by a group of medical and education experts. Private companies, police and fire departments, community colleges and other venues provide courses nationwide. Courses run 60 to 90 hours and include instruction in many areas, such as patient assessment, CPR, airway management, wound care, fracture care, childbirth, splinting, lifting and moving, and instruction in ethics and emergency medical service operations.
National Salary Averages
According to CB Salary, the 2011 national average for firefighter first responders is $47,848. The website Simply Hired places the 2011 national average at $42,000.
EMT/Paramedic Salaries
The U.S. Bureau of Labor Statistics, based on 2010 data, reports a national median salary of $30,360 for EMTs and paramedics. The 10th percentile salary is $19,710, and the 90th percentile figure is $51,370. The 25th to 75th percentile pay range is $24,070 to $39,590 per year. The average hourly wage is $16.01.
Salaries by Location
Based on 2011 data, Salary Expert lists an average first responder salary of $35,626 for Charlotte, North Carolina -- the highest average salary reported in its survey. Atlanta, Georgia, paid the low-end salary of $22,977. The Bureau of Labor Statistics reports that the highest-paying areas for EMTs and paramedics are the District of Columbia, with an average salary of $49,870, Alaska at $48,050 and Hawaii with an average salary of $47,920. Tacoma, Washington, was the top-paying metropolitan area, with an average pay rate of $65,880.
Salary by Employer Type
The two industries with the highest employment totals for EMTs and paramedics are ambulatory health care services -- ambulance workers -- and local governments, including fire and police departments. They employed 107,290 and 65,400 workers, respectively. Ambulatory services paid an average salary of $30,570, and local governments paid an average salary of $36,960. State governments paid the highest salaries, averaging $49,960.
Job Outlook
The Bureau of Labor Statistics projects a job-growth rate of nine percent for EMTs and paramedics through 2018. An aging population, along with hospital consolidations and overcrowding, has resulted in EMTs spending more time with each patient transported, increasing demand. In addition, inter-hospital transfers via ambulance have increased, and rural communities are finding it more difficult to train and retain volunteer paramedics, meaning more paid positions will result. Paramedics and EMTs with advanced training and college educations will enjoy more favorable job prospects.