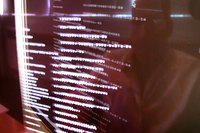 Programmers write computer programs and repair, maintain and update existing programs using computer programming languages. The United States Bureau of Labor Statistics classifies computer programmers and computer software engineers in the same category because a lot of computer programming is standardized and automated. This allows programmers to be more involved with the software design and applications areas that were previously the responsibility of software engineers. Preparation to become a computer programmer includes an associate or bachelor's degree in computer information or science.
High School
High school preparation for computer careers includes math and science courses. Computer summer camps and workshops give teenagers the opportunity to learn basic programming and learn about career paths in computer sciences. Vocational courses at community colleges offer opportunities to learn about computer hardware and software.
Computer Degrees
Standard preparation for a career in computer programing includes a bachelor's or associate degree in computer science, mathematics, software engineering or information systems. Advancement or management positions may require a graduate degree. Ongoing education to keep up to date with the latest technology and certification through professional computing societies and associations provides a competitive advantage.
Business and Engineering
Many programmers work on business systems and benefit from business, accounting and finance training. Programmers for large financial institutions, insurance vendors and global management firms need an understanding of those industries to work on their information systems. Employers with scientific or engineering systems prefer programmers with degrees in engineering as well.
Advancement
Advancement for programmers includes lead programmer and supervisory positions, systems programming opportunities, and systems analyst work. Experience in specialized computing languages or operating systems may lead to computer software engineering assignments. Programmers with teaching aspirations may have the opportunity to train programmers or teach college and university programming courses.
Job Outlook
The U.S. Bureau of Labor Statistics reports excellent job prospects for computer programmers and software engineers, with employment expected to increase much faster than average. Employment in these occupations is projected to increase 21 percent between 2008 and 2018. Programmers with a bachelor's degree and computer experience will have an advantage in the job market. Rapidly evolving technologies and information security concerns drive computer programmer employment.