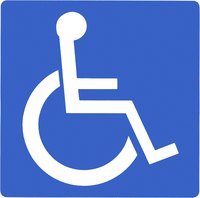 Persons with disabilities face many challenges in today's world. However, the Internal Revenue Service has helped homeowners, through tax deductions and credits, improve the residence of disabled persons. Specific medical improvements qualify for tax deductions and tax credits for the homeowner under IRS regulations.
Tax Deductible Requirements
Home improvement tax deductions require the homeowner to increase the value of the home in order to receive a tax deduction. Medical home improvements, such as wider doors and windows, are tax deductible whether the value of the property increases or not. The lack of a home value improvement allows disabled persons to utilize the tax deductions for minor home improvements.
Medical Home Improvement Deductible Items
The IRS maintains a list of deductible home improvements on IRS Publication 502. Items not listed may be included using a recommendation from a doctor. Items covered by the IRS include: chair lifts for stairs, wheelchair ramps, bathroom railings, widening doors and windows and lowering counters and cabinets. A doctor recommendation may include other improvements, pending approval from the IRS. A tax professional or the IRS customer service center can help a homeowner know if an improvement is deductible.
Tax Deduction Amounts
When calculating the deductible amount from your taxes, consider any increase in the value of a home. If the value of the home increases, the deduction is the amount of the increase. In the event that a home's value does not increase, the whole cost of the improvement may be deducted as a medical expense, instead of a home improvement expense. Any maintenance or upkeep costs for the improvement are also deductible on an annual basis.
Medical Expense Requirements
For home improvements that qualify as medical expenses, the IRS requires the cost of the improvement to be greater than 7.5 percent of adjusted gross income. Expenses that do not cost more than 7.5 percent of adjusted gross income are not deductible as medical expenses. In the event that medical expenses do not cost more than 7.5 percent of adjusted gross income, and do not increase the valuation of the home, the expense is not deductible under 2011 IRS tax codes.