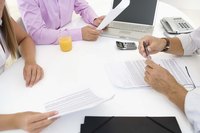 Governments can influence their national economies using either fiscal or monetary policies. Fiscal policies influence the economy through changing either government revenues or government expenditures, while monetary policies influence the economy through changing either the money supply or interest rates. Governments use these policies to exert counter-cyclical pressure on the economy -- meaning that they either use them to cool off rapidly rising demand or to keep their economies afloat during a recession. The direct impact of such policies on government revenues and expenditures depends on the specific policy in question.
Government Revenues and Expenditures
Governments receive revenues and then spend these revenues to provide services to their people. Government revenue can come from a number of sources, but the overwhelming source is the taxes levied on their people. Government expenditures are much more diverse -- including spending on salaries for public employees, infrastructure, health care, and the expenses needed to keep the day-to-day operations of the governments running. Fiscal policies create direct impacts on government revenues and expenditures.
Non-Discretionary Fiscal Policies
Non-discretionary fiscal policies are changes to government taxation and expenditures that occur automatically once certain conditions are triggered. Such fiscal policies are encoded into the system to act as the first line of measures designed to protect the economic well-being of their nation. For example, if the economy enters a recession and the newly unemployed begin receiving unemployment benefits, those benefits count as non-discretionary fiscal policy because they automatically happen. In contrast, if the government legislative bodies then decided to spend money to encourage businesses to hire workers, that is a discretionary fiscal policy since it required those bodies to choose to implement this course of action.
Impact of Non-Discretionary Fiscal Policies on Revenues
Governments can change their revenues through changing tax rates. In general, an increase in tax rates increases government revenues and serves to dampen rising demand in the economy, while a decrease in tax rates decreases government revenues but serves to bolster flagging demand. The theory behind this is that individuals and businesses will have more money to spend if taxes are lower and will spend more if the cost to them of doing so is less. Exceptions to this general rule do exist, but tend to be rare.
Impact of Non-Discretionary Fiscal Policies on Expenditures
Governments can implement fiscal policies that cause them to either spend more or less of their money. In general, an increase in government expenditure serves to bolster flagging demand, while a decrease dampens rising demand. Expenditures have a multiplier effect on the economy because money circulates. For example, if the government pays $100 in unemployment benefits to a worker who then spends all of it on groceries, most of that $100 will be used by the store to pay its suppliers and workers, who will in turn spend it on other goods and services.