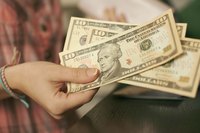 When you split from your child's other parent and she gets sole custody or primary physical placement under a joint custody arrangement, child support can quickly join death and taxes on the list of life's inevitables. Generally, you have to keep paying until the child ages out or something else happens that terminates your obligation under state law. One of these terminating events can be the child no longer living with the custodial parent.
The Child Is with You
You shouldn't have to pay child support if the child moves in with you. Unless you and your ex agree otherwise, not only can you get child support stopped in this case, but you can now seek support from her. If you owe an arrears balance, the court will probably allow your ex to "pay" support to you by reducing your balance by the amount she would owe you every month. If that balance runs out, then she'll have to pay you. If the child moved out of your house or aged out of child support before your balance was extinguished, you'd have to start paying again.
The Child Is with a Third Party
Just because a child stops living with your ex doesn't necessarily mean he moves in with you; foster care, friends and family members are all possible destinations. Regardless of where he goes and the reasons behind it, if your ex isn't taking care of him anymore, you shouldn't have to pay her support. If you have an arrears balance when the child moves out, you may have to keep paying until your arrears are extinguished. Also, you may have to make payments to the new caretaker.
The Child Is Emancipated
Child support can stop entirely for everybody involved if your child becomes emancipated. Emancipation means the child is no longer under the care, custody and control of you or your ex; early adulthood, in other words. All states have a process by which a minor can become emancipated under certain circumstances. One of the more common methods of emancipation is when a teenage child gets married. However it occurs, once your child is emancipated, your regular child support obligation stops because, legally, the child is now an adult. Unless the child is in college and your state requires child support to continue, all you'll have to pay is your arrears balance.
How Child Support Gets Stopped
How your obligation stops depends upon how it was set up and how you were paying it. If you're paying without a court order, you can simply stop. If your obligation is set through court, whether a direct order from a judge or a voluntary support agreement that you signed and a judge later approved, you'll need to file a motion with the court to get it stopped. Child support is modifiable upon a showing of changed circumstances, and your child no longer living with the custodial parent will usually qualify.