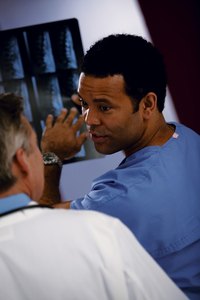 Medical professionals involved in the specialty of radiology use radiation imaging techniques to diagnose health issues in patients or provide radiation treatment for certain diseases. Entry-level jobs in the radiology field can require a range of education, from a two-year degree for technician positions to 13 years of schooling for radiologic specialists. The starting salary earned by a radiologic professional depends on their degrees and certifications and the area in which they work.
Radiologic Technicians & Technologists
Radiologic technicians and technologists usually enter the workforce with either a four-year bachelor's degree, a two-year associate's degree or after completion of a two-year certification program. Reputable degree programs for radiologic technicians are certified by the Joint Review Committee on Education in Radiologic Technology. The U.S. Bureau of Labor Statistics (BLS) reports that the lowest 10 percent of wage-earning radiologic technologists and technicians, which includes many entry-level positions, earned a maximum income of $35,100 as of May 2008. According to the New York City College of Technology, starting salaries for radiologic technicians and technologists typically range from $40,000 to $50,000 per year.
Radiologic Specialists
Physicians and surgeons specializing in radiology earn much higher starting salaries, but require more extensive education. An individual must obtain both a four-year bachelor's degree and a four-year medical school degree before moving on to study a specialty such as radiology. Residency programs in diagnostic radiology usually take four to five years to complete. According to the BLS, the lowest 10 percent of salaries for combined physician and surgeon specialties, including radiology, were no greater than $53,510 per year as of May 2010.
Radiation Therapists
Radiation therapists utilize many radiologic practices when administering treatment to cancer patients. Most entry-level positions in radiation therapy require at least a two-year associate's or a four-year bachelor's degree in radiography as well as a 12-month radiation therapy certification program. According to the BLS, the lowest 10 percent of wage-earning radiation therapists took home a maximum salary of $47,910 per year as of 2008, about $25,000 less than the median salary level for the occupation that year.
Considerations
Radiologic specialists earn higher starting salaries in metropolitan cities than they do when serving rural populations. According to a 2010 "New York Magazine" article, starting salaries for radiologists working in New York City averaged about $140,000 per year, which is about $90,000 more than the lower percentile wage earners working across America. Along with earning the proper degree, many jobs in radiology require employees to join the American Registry of Radiologic Technologists (ARRT). Maintaining membership in ARRT requires completion of 24 hours of continuing education credits every two years.