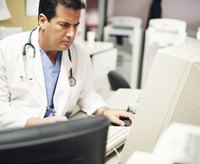 Bioinformatics scientists are biological scientists who collect, organize and analyze vast amounts of biological data through computers and databases. They employ bioinformatics theory to conduct research in many fields, including the pharmaceutical, biotechnology, medical technology, biology and medical informatics industries. Bioinformatics is considered an emerging field and job prospects are better than average, according to the Bureau of Labor Statistics.
National Salary
Bioinformatics scientists are categorized by the Bureau of Labor Statistics as "Biological Scientists, All Other" in terms of salary information. The average national wage for bioinformatics scientists, according to the BLS, is $71,310 annually. According to the American Association for the Advancement of Science Life-Science Salary Database, those scientists with an M.S. in bioinformatics made an average of $76,642. The top 25 percent earned $100,000, and the bottom 25 percent earned an average salary of $50,000. This data is according to a 2004 AAAS salary survey of life scientists, and combines both academic and non-academic positions.
Prospects
Future job prospects are good for scientists in the field of bioinformatics. The BLS reports that the pool of bioinformatics scientist jobs is projected to grow by 14 to 19 percent between 2008 and 2018. A 2010 salary survey conducted by life sciences magazine, The Scientist, reported that bioinformatics was one of the few fields that posted salary increases in 2010, according to Science News Daily.
Industries
According to the BLS, the industries with the highest levels of employment for bioinformatics scientists, as of May 2010, are the federal executive branch, with an average annual salary of $73,530; colleges and professional schools at $59,200; scientific research and development companies at $77,050; pharmaceutical firms at $74,670; and state governments at $64,530.
Top Paying States
The top paying states in the field, according to the BLS, are Maryland, offering an average salary of $99,330; Maine offering $86,680; Virginia at $84,450; New Jersey at 78,550; and Connecticut at $78,250.
Type of Work
Bioinformatics scientists with master's degrees may work in applied research or product development, according to the Bureau of Labor Statistics. Some may serve as research technicians or teachers. Independent researchers, college professors and high-level administrators in the bioinformatics field typically hold doctoral degrees. According to O-net, most scientists in the field work in the government or educational services sectors. The type of work performed by bioinformatics scientists include analyzing big data sets, analyzing research data to recommend computing strategies, manipulating specialized genomic databases, creating and modifying Web-based bioinformatics tools and developing data models, databases and new software.