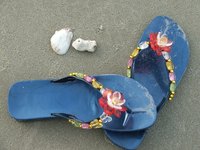 How to Select Shoes to Wear With Bermuda Shorts. Bermudas, those great shorts that hit just above the knee, remain the perfect vacation or summer afternoon wardrobe staple. Dress them up with a classic loafer, or keep it sporty with a canvas sneaker.
Things You'll Need
Men's Sandals
Tennis Shoes
Pair Bermudas with canvas sneakers, walking shoes, flat leather sandals or a leather loafer. Athletic shoes will make a very casual substitute to the sneaker. Women: Pumps and strappy sandals are too dressy for this short.
Go for a rich brown leather loafer to dress up your Bermudas. Where a black loafer when wearing a black top.
Consider a sneaker color that will work with most of your casual wardrobe. Navy is the most popular dark basic, while white and ivory remain the lighter colors of choice.
Shop a few stores before settling on a sneaker. Just about every shoe resource offers a version of the canvas tennis shoe, so consider a few different styles and fits before making your purchase. Prices will vary dramatically.
Wear short socks if you decide not to slip shoes on your bare feet. Knee socks are very unflattering when worn with Bermudas.