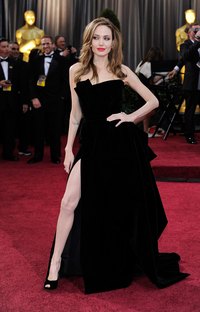 Actresses like Nicole Kidman and Angelina Jolie exemplify the perfect, long legs many women dream of having. While you might wish you were born with naturally long legs, wearing clothes that fit well and highlight your favorite body parts can elongate your short legs. Good fit and smart choices can transform your natural height and all your curves into wondrous assets. Make every inch count in the right clothes and you won't have to pretend you're Angelina Jolie on Oscar night anymore.
Waist-High Hint
Don empire-waisted dresses and high-waisted pencil skirts and pants. This trick makes the leg line appear to start just underneath your ribcage and can add an extra 5 to 6 inches of visual length to your legs in a snap. Add decorative belts around your waist to further emphasize the start of the leg line.
Nude Illusion
Wear nude sandals and wedge shoes. Nude footwear makes the leg line appear as though it goes all the way to your toes and doesn't create any visual lines around the ankle, which can shorten the appearance of your legs.
Hemline High
Purchase skirts and shorts with a slightly higher hemline. Hemlines that hit at the knee and lower break up the leg line and make it appear as though your legs are shorter. A garment that falls to a few inches above the knee accentuates the length of your legs and gives that seamless appearance you're after.
Shoes to the Moon
For a night out on the town, wear shoes that are at least 2.5 inches high. The extra height gets your leg muscles working to give a toned effect, and heels that are a dramatically high make a statement. Wearing high nude platforms effectively combines the nude illusion with added height and makes for sky-high legs.
Monochromatic Mischief
Pair black pants with a black blouse, or put a cream-colored outfit together to create a monochromatic, seamless body line. One color boosts the visual effect of a single body line that goes on for days. Look for clothes that fit perfectly to create the polished, long look.
Visual Vertigo
Invest in a pair of vertical-striped pants that fit you perfectly. The vertical stripes create the visual illusion of length and height. Just as horizontal stripes on a ribbed, knit top can widen your torso, the vertical stripes on the legs elongate the whole bottom half.
Moisture and Glimmer
Moisturize your legs with shea butter lotion or a slightly tinted moisturizer to get a bright, healthy glow if you opt for a skirt or shorts. This technique accentuates your legs and gives them a glow that makes legs look gorgeously healthy.