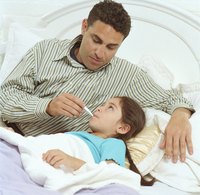 How to Treat Measles. Measles is caused by a virus and is highly contagious. But thanks to the vaccine, it is much less common than it used to be. Symptoms include a red rash, a fever that can spike up to 105 degrees F, and sensitivity to light.
Things You'll Need
Sunglasses
Humidifiers
Bottled Water
Honey
Lemons
Acetaminophen
Cold Compresses
Ibuprofen
Vaporizers
Vitamin C
Zinc Lozenges
Take acetaminophen or ibuprofen to reduce fever, aches and pains. Avoid giving aspirin to anyone under 18 because of its association with Reye's syndrome unless directed by a doctor.
Dim lights and draw shades. Wear sunglasses if you have to go outside.
Avoid reading or doing close work to keep from irritating eyes further. Limit television and computer work, as they may also irritate eyes.
Soothe eyes with a cool, wet compress.
Take a bath in oatmeal to relieve itching.
Rest while you have a fever and rash. Stay home from work or keep child with measles home from school.
Use a humidifier or vaporizer to help break up mucus if you are congested or coughing.
Drink plenty of fluids, especially water. Drink beverages hot or cold, whichever makes you feel better.
Mix one part lemon juice with two parts honey to make your own cough syrup.
Take vitamin C - 1,000 to 3,000mg per day in divided doses - to help strengthen your immune system.
Use zinc lozenges to boost your immune system, repair tissue and generally speed up the healing process.