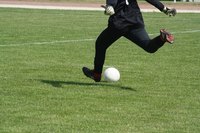 How to Treat Athlete's Foot. Several over-the-counter remedies can help cure athlete's foot. Once you have successfully treated it, be diligent in trying to prevent it from returning.
Things You'll Need
Gauze
Astringent
Antifungal powders
Antifungal creams
Cotton swabs
Apply a topical antifungal ointment such as miconazole or clotrimazole 2 to 3 times a day. Reapply after showering and before going to bed.
Dry carefully between each toe whenever your feet get wet. Consider using a hair dryer set on low to thoroughly dry your feet.
Place cotton balls between your toes at night if your feet perspire excessively when you sleep.
Avoid harsh soaps, especially deodorant soaps.
Sprinkle an antifungal powder containing miconazole or clotrimazole into your shoes when you plan to wear your shoes for several hours.
Pour a small amount of astringent onto a piece of gauze and wipe the crusty areas on your feet and between your toes. Then let the gauze sit on the crusty spots for a few minutes. The astringent will draw more moisture from your foot.
Go barefoot as much as possible during the acute phase of athlete's foot.
Ask your doctor for a prescription of oral griseofulvin for athlete's foot that spreads or will not go away.