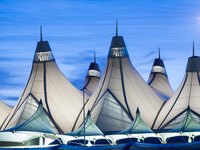 Though layovers at an airport are generally considered tedious and stressful, there are ways to enhance your experience at Denver International Airport in the Rocky Mountain State of Colorado. The Jeppesen Terminal building and three airside concourses are teaming with people, activities, art, shopping and dining, including the chance to sample some of the Colorado's local wines and handcrafted microbrews.
Culture and Shopping
Enjoy your layover time at DIA by exploring local culture on display throughout the terminals. Look for permanent and rotating exhibits from regional painters, sculptors, muralists and installation artists, specifically in the main terminal area, Concourse A and on the underground trains. Snag some quiet time at the Interfaith Chapel or the Islamic Prayer Hall, open 24 hours a day on Level 6 of the Jeppesen Terminal. Splurge on a table or chair massage in the Center Core of A Gates or the Mezzanine in the B Gates, or get in some shopping at one of 50 specialty and chain retail shops.
Food and Drink
Settle in to one of the dozens of eating areas scattered throughout the terminals, with concentrations in the Mezzanine and Center Core, to indulge in fine dining, ethnic cuisine, seafood or fast food. As of 2014, you can sip and sample fine wines from Colorado and abroad at the upscale Lounge 5280 Wine Bar, Cru Food and Wine Bar and Vino Vollo locations near the A and C gates. Check out local microbrews at the Boulder Beer Tap House on Level 5 of the Jeppesen Terminal.