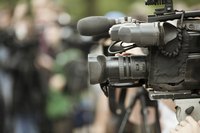 Press coverage can raise the profile of your company's events and help attract more visitors and participants. By building relationships with journalists who cover your business sector and providing them with newsworthy information, you can get press coverage for your events.
Evaluate the Event's News Value
Editors and journalists face conflicting demands on their time and may receive high volumes of news releases and invitations to media conferences. They make choices based on the potential news value of the story, so it pays to look for strong news content in your events. You may have a high-profile speaker who draws a lot of public attention, for example, or you may be launching a product that represents a major technical breakthrough in your industry. Maybe the event has strong local significance, such as an announcement that your company has been awarded a contract that could boost local employment.
Identify Relevant Publications
It's important to pitch journalists with a specific interest in your business or your event. To identify relevant publications, consult a media directory that gives names and contact details of journalists, together with information on the topics they cover. An engineering company launching a breakthrough product might contact publications that cover the engineering industry as well as reporters for local media whose beats include the engineering sector.
Customize the News Release
Tailoring the information to different publications can increase your chances of successful coverage, according to FitSmallBusiness. Sending a personalized email to the most important press contacts, rather than a general news release, may be even more effective. To customize the news release or email, include information that is relevant and interesting to the journalist's readers. An engineering journalist, for example, would be interested in writing about the technical details of the breakthrough product. A story about a local start-up would be attractive to reporters who cover new businesses in the region.
Invite Journalists to the Event
A personal invitation to attend the event gives you the opportunity to gain more detailed coverage of your event and build relationships with journalists. Increase the value of the invitation by offering selected journalists an exclusive interview with a high-profile speaker or senior executive. Give invited journalists details of the venue and a schedule of the event, highlighting the aspects that would be of greatest interest.
Help Journalists Write Their Reports
By providing busy journalists with information on the event, any featured products and background on the company, you can help them meet editorial deadlines and ensure accurate coverage. Include biographies of speakers, senior company figures attending the event and contacts for further information. Post the information on the news page of your website, as well as distributing it with your event news release.
Follow-Up After the Event
Sending a follow-up news release after the event may gain additional coverage in publications that did not run the pre-event story. Include information on any important outcomes of the event, such as new orders or great audience feedback. Thank the journalists who attended your event or ran pre-event stories and give them details of upcoming events so they can plan future coverage.