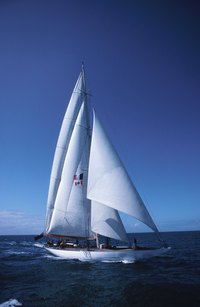 Boat shoes are both stylish and comfortable, making them a popular choice for many people, even those who spend little time sailing. However, they have a low-slung shape that can make them difficult to break in. Since boat shoes look best worn without socks, a pair that you haven't yet broken in can pinch and chafe. Take some time to break in your new boat shoes before wearing them for a full day.
Things You'll Need
Try your new boat shoes on to make absolutely sure that they are the right size and style.
Fill a bucket with cold water.
Add 1/3 cup sea salt to the water.
Submerge your new shoes in the bucket and let them sit for 24 hours.
Remove your shoes from the bucket and place them on your feet without any socks. They should be soggy wet.
Walk around in the shoes until they dry.
Evaluate the comfort level of the shoes. If they still feel stiff or uncomfortable, repeat the previous steps as necessary.
Begin wearing the shoes for short periods. Over the course of a week or two, gradually increase the amount of time you spend wearing them.
Try wearing your boat shoes for a full day to see how they feel. Bring a backup pair of shoes just in case.