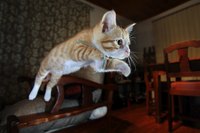 Agility competitions aren't just for dogs anymore -- now your feline friend can join in on the fun. Build your kitty an obstacle course as a way to get your tubby tabby to exercise or to prepare her for a professional agility competition run by organizations like the Cat Fanciers Association. Create a customized course that is as simple or elaborate as you desire and set up the course right in your home.
Basic Obstacle Course
Exercise helps keep your kitty in good shape mentally and physically, recommends petMD. Creating an obstacle course for your feline friend gives her a chance to get the exercise she needs in a challenging way. You don't need complex items to create the course if you don't plan to enter your kitty into professional competitions. In fact, you can use a few dining room chairs, flipping over some of them, to create an excellent temporary obstacle course for your feline friend. Add in a few tables or varying heights and some cardboard or wooden boxes for your cat to climb over and you're ready to go.
Hurdles, Hoops and Slaloms
To create a professional obstacle course for your feline friend to practice with, you can use PVC pipes, joints and fittings that are each about 1 inch in diameter to make a number of the items that you'll need. You can create hurdles, hoops and slaloms, also known as weave poles, for your kitty to jump over, through and maneuver around. Don't make the hurdles so high that your feline friend can't hop over them. The International Cat Agility Tournaments website recommends using jumping hurdles of around 9 inches in height and 10 inches in height for hoops with a diameter of 18 inches. Place slalom poles around 18 inches apart; any height is appropriate for slalom poles.
Tunnels and A-frames
Every kitty obstacle course needs some tunnels and an A-frame. Kitties, especially shy ones, love the security that the tunnels provide. They give our furry friends an excellent space to hide and pop out of when interacting with you, according to cat behaviorist Pam Johnson-Bennett's website. You can purchase ready-made tunnels in your local pet store or use a pop-up laundry hamper, with the bottom cut-out, as a tunnel. Use paper bags, with the bottoms cut out, taped together to make a temporary tunnel or even a large cardboard box with the top and bottom flaps cut off. Create an A-frame using wooden boards or corrugated cardboard scratchers that tilt upward, recommends the Cat Fanciers Association.
Other Obstacles and the Enclosure
Include a ladder, placed horizontally, in your kitty's obstacle course for her to climb over and through. Make one with PVC pipes, around 3.5 inches in height, with the "steps" placed 20 inches apart. If you don't have weave poles made of PVC, use several traffic cones instead. Surround your obstacle course with fencing, netting or a premade gazebo if you place the course outdoors to prevent your kitty from escaping. Once she's used to the obstacle course, lead Fluffy through it with a toy and give her praise and treats when she gets through each obstacle.