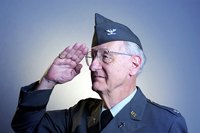 The Department of Veterans Affairs provides pensions for financial support to qualifying wartime veterans over age 65 without income to support themselves, or who are "permanently and totally disabled" under age 65, as recognized by VA. The agency also pays compensation to qualifying veterans with service-connected disabilities. The VA has the option to appoint a person or business as a fiduciary to manage the payments for veterans who are found legally incompetent to manage their financial affairs.
Things You'll Need
VA Form 21-4138
Medical evidence demonstrating financial competency
Legal paperwork revoking guardianship, if a guardian was appointed
Remove any mental competency restrictions on your VA disability award. If mental health issues are related to the financially incompetent ruling in the determination of the Veterans Benefits Administration, you must obtain medical evidence to submit to the VA to resume receiving payments directly.
Remove, legally, the fiduciary in control of your VA disability receipts. The fiduciary might be a state-appointed legally designated conservator, guardian, trustee, committee curator or bank, but a spouse or relative may also serve this function. For a veteran to resume managing his own finances, appropriate legal evidence must be presented to the VA. Court-documented revocation of guardianship serves this purpose.
Call the Veterans Administration National Call Center to request a copy of VA Form 21-4138, Statement in Support of Claim, or download the document by searching "forms" on the agency's website at vba.va.gov.
Collect all medical and court documents and send these, along with a competed VA Form 21-4138, Statement in Support of Claim, to your Veterans Administration Regional Office. Write your claim number on each page of all documents. This ensures paperwork remains in the correct folder as your file moves through the review process. State on the form that you now assume your own fiduciary responsibility. The VA must approve this transfer before restoring benefit payments directly to the veteran. Once received in the VA Regional Office, a date stamp provides documentation for the exact date the office received your request.
Allow a minimum period of at least two months and telephone the Veterans Administration national information number at 1-800-827-1000 to ensure the paperwork arrived at the office. Follow the telephone prompts to reach a representative.