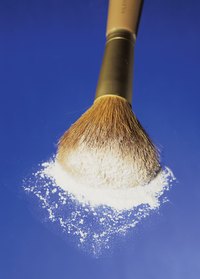 Deodorants often contain aluminum, which can be harmful to your skin. Luckily, you can use baby powder as an alternative. Baby powder will reduce moisture, and keep you fresh and dry. For best results, use baby powder that is talc-free.
Things You'll Need
2 tbsp. baking soda
2 tbsp. baby powder
2 tbsp. petroleum jelly
Double boiler or cooking pot
Small jar with lid
Mix 2 tbsp. of baby powder with 2 tbsp. of petroleum jelly and 2 tbsp. of baking soda.
Heat the mixture in a double boiler, or a cooking pot set to very low heat.
Stir the mixture until a smooth cream begins to form.
Allow the mixture to cool, and transfer it to the jar. Keep the jar sealed tightly when not in use.