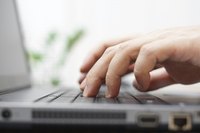 Lenders use default letters when debtors do not meet their repayment commitments. Typically, these letters give debtors a final chance to pay what they owe. To write a default letter you need to know the name and address of the debtor, the exact amount that is past due and the next steps you will take to recoup your losses.
Open a new file on your word processing software. Insert the legal name and address of the person or company you are sending the default letter to. Write the date.
Reference the account number or name of the loan that the party has defaulted on. State that this account if now in default. For example, "Mr. Smith, you are now in default of loan number 012345, originally dated (insert date)."
Write down the exact amount of the default. For example, "Mr. Smith, you currently owe the amount of $XXXX.XX including any interest to date."
Notify the party that you are demanding full payment to be made. Include the total amount to be repaid and note that the amount includes interest to date, late fees and any attorney fees as applicable.
Explain the next step in the process and when it will take place. For example, "If this entire amount is not paid within 14 days, we will have no choice but to turn this debt over to an attorney who will then be seeking judgment on our behalf, which could result in eventual wage garnishments or liens upon your assets at a later date."
End the letter with a formal signature such as "Regards" or "Sincerely." Type your legal name. Sign your name between the signature and your printed name.