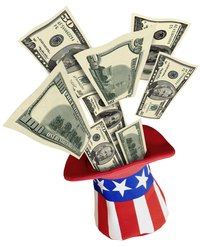 The Thrift Savings Plan, or TSP, is a government-sponsored account available to federal employees to save for retirement. The federal government matches a portion of an employee's contribution to his TSP account, and contributions are tax-deferred until the income is withdrawn after retirement. You can borrow money from your own TSP account by filing the appropriate forms.
Review borrowing rules at the TSP website. TSP account holders can borrow a maximum of $50,000. However, the amount you can borrow may be less depending on how much money is currently in your TSP account and whether you have outstanding TSP loans already.
Use the online TSP loan calculator to estimate your payments. As with any commercial loan, loans from your TSP account must be repaid on a fixed schedule.
Fill out and submit the proper form. Use Form TSP-U-20 if you are in the uniformed services. All other federal employees use Form TSP-20 for their loan request. You can mail the form to Thrift Savings Plan, P.O. Box 385021, Birmingham, AL 35238 or fax it to 1-866-817-5023.