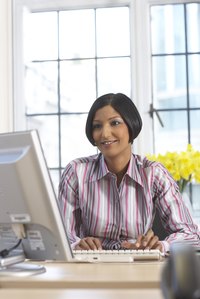 The accounts receivable department is one of the main areas for fraudulent activity within companies. The lack of internal controls in organizations makes it easy for employees to manipulate numbers and steal money. Accounts receivable fraud has a negative affect on companies and shareholders because investors depend on accurate financial data to make investment decisions. It is important to have a process in place to detect fraudulent activity. Properly implemented internal controls should raise red flags when fraud occurs. Implementing checks and balances, separation of duties and management authorization for large financial transactions are important elements of an internal control process.
Things You'll Need
Match the receipt tape to the amount in the cash register. Print a receipt for each financial transaction within your company. Balance the total cash amount on the receipts to the cash on hand.
Match cash receipts to bank deposits. Calculate the total amount for cash receipts or statements given to customers. Match the cash receipts to the amount of money that deposited in the bank for a specific time period. If cash receipts are higher than bank deposits, fraudulent activity is possible.
Balance credit card transactions to recorded revenue on a daily basis. Verify that the amount recorded as a payment in the accounting system and the credit card transactions equal one another. Perform a more detailed analysis if credit card transactions are consistently greater than recorded revenue.
Check approvals on write off amounts. Look to see if write off amounts were approved by an authorized manager. Notice whether or not write off amounts are aligned to company policies.
Assess past due accounts. Review aged accounts and contact customers to verify no payment was made. If customers state that payment was made on past due accounts, check bank deposit slips for any mistakes made by not recording payments.
Check invoice accuracy. Examine invoices to certify that employees generated invoices for the right amounts. Check pricing contracts for customers and pricing information on invoices for validation.
Look for trends and patterns. Inspect past and current financial statements for any unexplained inconsistencies in account balances. Perform an audit on the balance sheet and income statement. Check the amounts on the financial statements to the general ledger and payments made by customers.
Meet with employees and managers in the accounts receivable department. Ask questions to find out if employees are following company guidelines. Inquire about the financial controls in place to prevent and detect fraudulent activity.