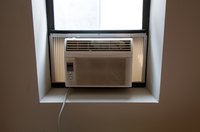 In order to perform the day-to-day tasks expected of a heating, ventilation and cooling (HVAC) professional, the technician must have a well-organized work vehicle. When organizing an HVAC van, an owner needs to maximize space in the least costly manner possible. Following a few tips will make an HVAC work van well-organized and bottom-line efficient.
Things You'll Need
Install aluminum shelving along the interior of the back of the cargo van. Make sure the shelving has compartments for items such as brushes, bolts and screws.
Attach professional grade equipment hooks on the interior of the van's roof. The hooks will hold and secure tubing and other vacuum parts.
Install small cabinet components to the rear interior floor of the cargo van. The cabinets are for storing chemicals and larger equipment. Professional truck accessory dealers sell cabinets that come with bucket slots mounted to hold buckets with materials deemed for proper disposal.
Keep the middle aisle of the rear interior clear from all materials and equipment. Equipment should be secured down down and attached to prevent dislodging.