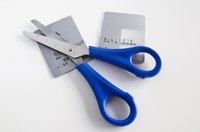 People close out credit card accounts for a variety of reasons These can include lack of customer service, failure to resolve a dispute the way you had anticipated or a change in the terms and conditions of the account. Regardless of the reason prompting the action, follow the proper procedure to close the account and have your actions properly noted on any credit reports. Citiibank sponsors a large number of cards and there is no central address or number to call which makes it imperative that you read your statement and use the contact information on it.
Call the customer service number on your account statement or credit card and advise them that you wish to close your account. Take note of the name of the person to whom you are speaking. Advise them that you would like it noted on the credit files that the account is being closed at the request of the account holder.
Write a letter to the address on which appears on your statement confirming your conversation with the service representative. Reiterate that you would like it noted and reported to the credit bureaus that the account is closed at the request of the account holder.
Mail the letter using certified mail with return receipt requested. This will establish the fact that a letter was sent to them and that it was received. The post office charges an additional fee for this service.