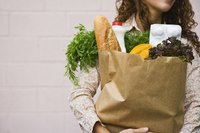 Once upon a time, farmers grew food and took it to market so consumers could shop for fresh meat, produce and dairy -- some literally sold from a harvesting cart. Not so anymore. An intermediary now plays matchmaker between farm and consumer: the food broker. Get into this field and you'll play an important role in today's sophisticated food distribution network. There is a lot of diversity in this job, and your ability to wheel and deal will be to your advantage.
Earn a college degree in agriculture or food science. Learn about the major food markets and industries operating throughout the United States, primarily meat, produce and dairy. Take classes in aspects of each: raising, slaughtering and butchering meat; seed hybridization; crop rotation; harvesting innovations; and pest control, plus new food niches like fish farms. As a food broker, a basic understanding of commodities markets and food price tracking is critical, so add them to your class schedule to be able to navigate frequent price fluctuations that drive the industry.
Choose a specialty. Your success may depend upon a narrow focus. For example, you may decide that brokering dairy products makes sense because you have access to dairy farmers. Before you jump into the fray, work for an established dairy broker or food distributor so you gain firsthand knowledge and experience negotiating with dairy farmers and food stores.
Launch your own brokerage business once you're ready to operate on your own. Some brokerage businesses ask employees to sign a "no compete" contract when leaving. These documents prohibit people from doing business in the same area as their former employer for a set amount of time. If you're asked to sign one, you must establish a territory other than the one on the document. Regardless of the territory you'll pursue, obtain a broker's license from your state's Department of Agriculture.
Rent or buy a distribution center, obtain permits and licenses, and buy the equipment you need to operate it. Your niche will determine the size and build-out plus the amount of equipment your brokerage facility needs. Meat and dairy require expensive refrigeration equipment and transportation. Produce isn't as fragile to store, but there's a still a risk that fresh fruits and vegetables can deteriorate if not stored at optimal temperatures.
Establish your legitimacy as a full-fledged broker. Importantly, retailers need to feel confident that you have relationships with farmers or ranchers; growers want to know you've got outlets for their food. Use your education and sales skills -- and articulate your willingness to offer top-of-the-line products and services -- to attract customers on both ends of the continuum.
Keep an eye on your competition, especially the marketing, promotion and sales strategies each one uses to maintain farmer and retailer loyalty. Find ways to separate your brokerage from the crowd. For example, Blue Ridge Food Brokers and Consultants forms bridges between small farms and big retailers in its mission to support independent farms. A clever, targeted angle like this one is often the key to long-term success.