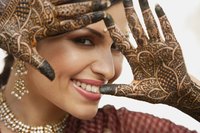 Henna tattooing is a Middle Eastern and Indian tradition of dyeing the nails, skin and hair with decorative designs. The act of henna is traditionally done to enhance the natural beauty of the person wearing it. Today, henna tattooing has become popular across the globe and has become a fashion trend for many. These tattoos are created with a special type of henna paste that dyes the outer layer of the skin. Henna stains the skin with the chosen design for about twelve days (more with proper care), are not made to be taken off immediately. While there are not any henna removal products available at this time, since the tattoos fade away over time, there are things you can do at home to help the removal process.
Things You'll Need
Soap
Water
Natural Loofah Sponge
Exfoliating Soap
Baking Soda
Lemon Juice
Small Mixing Bowl
Removing Henna
Prepare a baking soda paste by combining baking soda and lemon juice in a small mixing bowl. Add the baking soda to the bowl, and then add the lemon juice in small amounts. Mix together until you have made a thick paste.
Spread the paste over the henna on your hands, and allow the paste to sit for up to ten minutes.
Rinse the paste from your hands under warm water using a natural, coarse loofah sponge. Rub the loofah over your hands in circular motions.
Leaving your hands damp, apply a generous amount of exfoliating cream to the hands, and lather in a circular motion. Use the loofah once again to add to the exfoliation process.
Rinse your hands under warm water. Once again, use the coarse loofah sponge until all of the exfoliating soap has been rinsed away.
Repeat the entire process if necessary.