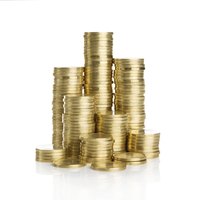 Basis is the amount you exclude from the value of assets when calculating capital gains or losses. It is usually the amount you invested in the asset. Since you don't pay for inherited property, the Internal Revenue Service sets guidelines for figuring the basis. However, there's no single method for determining the trust basis of assets because IRS rules vary depending on the type of trust. You need to check the applicable rules with the trustee before trying to determine the trust basis.
Basis, Trusts and Assets
When assets are inherited, the rule is that the basis becomes the asset's value on the date of death. This rule usually covers assets held in a trust. Adjusting the basis is referred to as "stepping up" or "stepping down" the basis. Suppose a share of stock cost $10 when originally purchased, but is worth $50 on the date of death. The basis becomes $50. Determining the new basis may be as simple as looking up a stock price. Other assets, such as art or real estate, may require a professional appraisal. With some trusts, the basis is not always adjusted. For example, with a bypass trust a surviving spouse receives income from the trust as long as she lives and the assets pass to heirs upon her death. The basis of trust assets is stepped up or down when the first spouse dies, but is not adjusted again when the surviving spouse passes away.