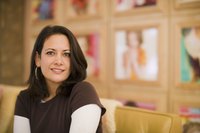 Become a stronger person by developing courage, confidence and resilience to withstand stress. Strength is a skill that can be developed to manage challenges faced in life. Strong people understand that difficult situations are temporary, emotional distress can be managed, and they have the ability to cope.
Courage
Courage is one component of being a strong person. Individuals with mental toughness don't detach from difficult situations—they take action. Strength is built by conquering fears and developing confidence in your ability to handle what comes. Develop the courage to face situations that scare you by becoming clear about your values and making realistic plans for steps that will help you reach your goals, writes psychologist Gary Seeman, in the PsychCentral article, "The Psychology of Mental Toughness." For example, if you find yourself experiencing conflict with a friend, recognize the need to improve your situation and take a first step toward that goal, such as asking to talk about your concerns. Although you may experience discomfort during the exchange, your strength and confidence will grow from having dealt with the situation.
Support System
Caring and supportive relationships with people who provide encouragement without judging will help make you a stronger person. Seek out people who will offer a listening ear without trying to solve your problems. If you lack support systems in your life, find opportunities to join groups or organizations where you can meet people, such as through volunteering, as suggested in the American Psychological Association article "The Road to Resilience." In addition to meeting like-minded individuals and building a support network, you will also boost your strength by helping others. If you find there are people in your life who drain your strength, consider if it may be time to cut ties–or at least spend less time together. Support groups, self-help books and therapy can also be good options to get help if you are feeling overwhelmed.
Self-Care
Strong people take care of their mental and physical health through self-care. Make a point of exercising regularly, eating healthy foods, and getting enough sleep. Recharge your batteries by taking a day trip, going for a walk, or writing your thoughts in a journal. While it is important to face tough situations and difficult emotions, be aware of when you are overwhelmed and need time to yourself. Don't be afraid to tell others "No" if you aren't feeling up to social activities or other obligations. In the long run, time alone will help build your strength and make you more available when you do spend time with others.
Self-Awareness
The final cornerstone of being strong is to develop self-awareness and mindful acceptance. Acknowledge that some situations will cause pain, and that healing takes time. Manage strong feelings and impulses by being prepared for emotional emergencies. Be flexible, so that you "bend" rather than "break," suggests licensed clinical social worker Brad Waters, in the Psychology Today article "10 Traits of Emotionally Resilient People." Realize that the stress you are experiencing now will not last forever. Rather than dwelling on problems that you can't control, focus on positive changes that you can make. Deal with your divorce but spend more time with single friends. Grieve the loss of a relative but celebrate his life. You might even consider taking up meditation practice to develop the ability to cope mindfully with the trials of life.