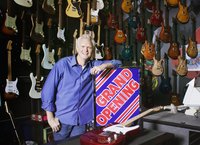 One of the hardest questions to resolve when you're setting up a business with one or more partners is how to split the profits. There are traditional ways to do that. A big law firm, for example, has two kinds of lawyers on the payroll, partners and those that would like to become partners. The nonpartners get paid only a salary; they don't get a share of the profits. At the end of each fiscal year, the partners divide up the profits. With a new venture it can be trickier, but if you are careful and anticipate possible eventualities, you can come up with a way to divide the profits that is fair and satisfies all concerned.
Structure your business correctly: The structure of your new business has an important effect on your profit split. You can choose among an S Corp, an LLC and a partnership. A partnership is risky because the partners are personally liable for any debts of the company. On the other hand, a partnership does not pay any taxes. All taxes are paid by the partners on their shares of the income. With an S Corp, the partners share equally in profits and tax liability. An LLC can spread those divisions around differently, around using different formulas. Choose the one that's best for you.
Make sure all partners agree as to how to define profit. The standard definition is that profit is the amount that is left over in a certain period after all expenses have been met. The partners have to agree on what are and are not legitimate expenses. They have to agree on such things as whether a certain amount of money will be set aside each fiscal year for emergencies, for long-term investment or for future expansion. If these things aren't worked out up front, they can lead to disputes later.
Figure out who will get what percentage. If two partners contribute equal amounts of time, talent and capital, a 50-50 split makes sense on paper, but often leads to problems based on disagreements over whether the partners' contributions are really equal. If one partner is going to be doing a lot more or if one partner's work is more valuable to the operation than the other's, the split probably will have to be negotiated. Engaging a mediator to help you arrive at an agreement on the proper split may be necessary.
Peg your split to the salaries of the partners if the partners are drawing salaries and if those salaries reflect the value and contribution of the partners. If one partner's salary is $100,000 a year and one partner's is $50,000, then a 2-to-1 split would seem equitable, unless the lower-paid partner put up a lot of seed money and the other partner did not.