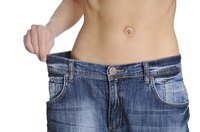 Most of the focus in the media these days is on shedding pounds due to the health risks posed by obesity. But a study published in March 2014 in "Journal of Epidemiology and Community Health" reveals that being underweight increases your chances of dying prematurely even more than being obese. Scientific research aside, being too skinny can affect your self-confidence. To improve your health and your self-image, eat a diet of healthy, high-calorie foods and engage in a regular strength-training program to build muscle.
Understanding Your Body Type
To a large extent, your body type is determined by your genetics. Still, a fraction is dependent on lifestyle and environmental factors, such as diet and exercise habits. Just as someone who is genetically predetermined to be overweight can lose weight, you can gain weight by manipulating certain factors. It's important to gain weight gradually because gaining weight too quickly can lead to excess fat gain instead of healthy lean body mass. A good goal is to gain 1/2 to 1 pound each week.
Eat the Right Foods
Get the most bang for your buck by adding calorie- and nutrient-dense foods to your diet, instead of bingeing on high-calorie junk food. The foundation of your diet should be fruits, vegetables, lean protein and whole grains. Healthy high-calorie foods to focus on include nuts, nut butters, seeds, avocados and plant oils, such as olive and canola. Plant fats are better for you than animal fats, which are a source of unhealthy saturated fat.
Tips for Building Your Diet
To get the calories you need to fill out, you're going to have to eat more -- perhaps more than you want to eat. Eat smaller meals more frequently, and add extra calories to meals whenever possible, such as topping an omelet with cheese or putting a couple slices of avocado on your sandwich. Snack on healthy high-calorie foods, like nuts, dried fruit and crackers with hummus. You can also use protein shakes with high-calorie additions like nut butters to fit in even more calories. Avoid drinking water before meals as it may fill you up and leave less room for food.
Get to the Gym
Simply eating more calories without exercising will fill you out with fat, which is not the goal. Exercise, especially resistance training, helps you build muscle and it may help increase your appetite so you can eat more. Although cardiovascular exercise is important for your health, your focus should be on building muscle mass with strength training. Stick to low-intensity cardio such as walking or jogging a few times a week. Spend the majority of your time in the gym on strength training that targets all the major muscle groups. Do total-body strength training workouts at least two days each week, and gradually increase the amount of weight you lift to see progress.